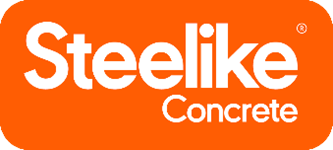 Guest Blog by Michael McDonagh, Vice President, Engineering & Projects, Steelike
A Once in a Lifetime Historic Investment Warrants Longer-Lasting Materials
America's infrastructure received an overall grade of C- in the 2021 American Society of Civil Engineers (ASCE) Report Card for America's Infrastructure. Some categories of infrastructure were graded as low as D-.  With the Biden Administration and Congress moving towards a large infrastructure spending package in the bipartisan infrastructure framework, described as a "once in a lifetime historic investment," America needs to make smart choices with any additional infrastructure funding available. Such investments should better ensure that infrastructure construction and repairs are durable and provide long-term value, rather than just short-term fixes.
Rebuilding Stronger
One of the ways we can rethink future projects and costs is to incorporate cutting-edge material advancements. A large part of our nation's infrastructure is made of concrete, and much of it has reached the end of its original service life with more reaching that milestone every year.  Over the past 20 years a new material called ultra-high performance concrete (UHPC) has gained a foothold in transportation infrastructure, largely due to the research and education efforts of the Federal Highway Administration (FHWA).  With strength up to five times greater and durability up to 100-times greater than conventional concrete, UPHC serves not only as an ultra-high-performance substitute for conventional concrete in new construction, but it can also repair and rehabilitate existing concrete infrastructure with exceptionally long-lasting results. UHPC has even been proven effective to repair and extend the service life of steel structures.

Figure 1: UHPC vs. Conventional Concrete
Used strategically, UHPC is a sustainable material that can result in long-term cost savings with potentially only a minimal upfront cost premium. For new construction, it requires less material and lasts significantly longer, thereby eliminating multiple repairs or replacements currently needed with conventional concrete. For rehabilitations, it can save infrastructure that is otherwise slated for replacement, potentially doubling the service life, or more, of the original construction. This can result in significant savings in terms of cost, environmental impacts, and user impacts. Using UHPC truly is a tool to "build back better."  Table 1 shows specific applications of UHPC and what advantages it brings.
Table 1: UHPC Uses and Benefits
| | |
| --- | --- |
| UHPC APPLICATION | BENEFITS |
| Structures | Exceptional resistance to corrosion of reinforcement, lighter weight. |
| Decks/slabs or deck/slab rehabilitation (overlay) | Exceptional resistance to wear and corrosion of reinforcement |
| Beams | Longer spans, more under clearance, lighter weight |
| Piling | Exceptional resistance to sea water and corrosive soils |
| Precast element connections | Rapid precast construction with strong, durable connections |
| Link slabs | Replace leaky joints with long-lasting solid slabs |
| Pipe or channel lining | Exceptional resistance to wear and chemical attack |
| Concrete repairs | Strong bond, long-lasting, will not cause "halo" corrosion around repair |
| Structural steel repairs | Strengthen and protect damaged steel without cutting, welding, or bolting |
Studies performed for the Delaware Memorial suspension bridge indicated that a UHPC bridge deck overlay provided the best value to repair the aging bridge deck versus other overlay materials. Additionally, the study demonstrated that UHPC is the only overlay material that can provide additional service life on par with that of a new bridge deck, with significant savings in both cost and traffic disruption.

Figure 2: Results of UHPC Overlay Study for Delaware Memorial Bridge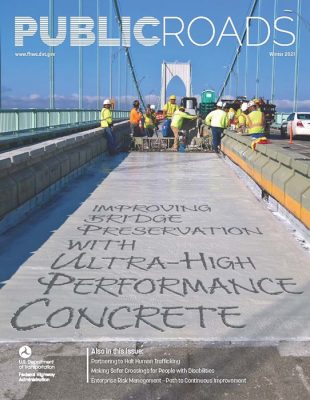 Figure 3: FHWA Public Roads magazine cover featuring Steelike® UHPC overlay being placed on Newport Pell Bridge deck
The FHWA Turner Fairbank Highway Research Center (TFHRC), whose leadership has been the driving force behind the adoption of UHPC in U.S. infrastructure, tracks UHPC deployments in North American transportation infrastructure. As of the end of 2020, TFHRC reported over 430 such deployments, the majority of which are in the United States, with an exponentially increasing rate of use over the last 10 years, as shown in Figure 4.  This is a solid track record showing continually increasing confidence in the material.  As the Report Card shows, however, there are many other sectors of U.S. infrastructure besides transportation, and most of them are not taking advantage of UHPC and its extreme durability – and its many other advantageous properties.
Figure 4: Cumulative number of bridges constructed or rehabilitated with UHPC in US by year (credit FHWA)
Figure 5: Precast bridge girder fabricated from Steelike® UHPC being tested by FHWA (credit FHWA)
As infrastructure owners overseeing other sectors of U.S. infrastructure consider ways to strategically invest additional funding and significantly improve the lifespan of assets, they should take note of the growing use of UHPC in transportation infrastructure and recognize the significant benefits that UHPC can bring to their respective sectors. They can get a running start using UHPC by leveraging the research, knowledge, and documentation that the TFHRC and academia have built up over the last two decades. Additionally, many of the proven UHPC applications in transportation can be readily adapted to other sectors of infrastructure – for example the wear resistance and corrosion protection of a UHPC bridge deck overlay can be readily adapted to a dam spillway or an industrial port pier – as laid out in Table 2. This is a key way to ensure that America's historic investment in infrastructure provides long-term value in all sectors with construction that lasts for generations and doesn't simply kick the can down the road for a few decades.
Table 2: How UHPC can increase service life in all infrastructure sectors
INFRASTRUCTURE SECTOR FROM ASCE INFRASTRUCTURE REPORT CARD

 

 

EXAMPLES OF WHERE UHPC CAN BE USED TO INCREASE SERVICE LIFE

Aviation
Overlays of runways and aprons, new pavement
Bridges
Repairs, deck overlays, new structures
Dams
Spillways, waterproofing
Drinking Water
Storage and conveyance lining, new construction
Energy
Pavements and structures exposed to corrosive chemicals/vapors
Hazardous Waste
Containment of corrosive or radioactive wastes
Inland Waterways
Lock repairs, new construction

Levees

Spillways, waterproofing
Ports
High load and high wear surfaces, seawalls and marine piling
Public Parks
Long-lasting structures that can mimic the appearance of natural materials
Rail
Rail bridge repairs, new structures
Roads
Overlays of concrete pavement, new pavement
Schools
Repair and upgrade of concrete building structures, New exposed structures
Solid Waste
Overlays of pavement at transfer facilities, new pavement
Stormwater
Conveyance lining, new construction
Transit
Bridge and station repairs, new structures
Wastewater
Treatment facility and conveyance lining, new construction
Mr. McDonagh is Vice President, Engineering & Projects for Steelike where he sets up each construction projects for success, by bringing his depth of engineering experience along with his UHPC expertise to help engineers and contractors use Steelike® UHPC and understand how it saves time, labor, and money.  Michael has more than two decades of experience in bridge design and project management in three continents, including more than 10 years of design experience with UHPC, and is a frequent speaker on UHPC and the use of UHPC in bridge construction and repair. Steelike, Inc. is a woman- and minority-owned company.